Kitchen Exhaust System Cleaning
San Antonio Texas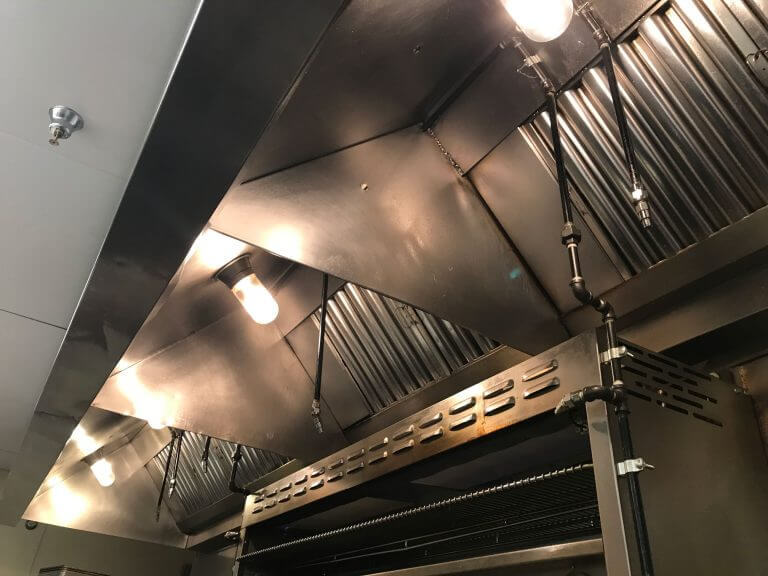 Kitchen exhaust system cleaning is described as the cleansing and removal of all greases and oils that may have collected inside an exhaust systems ducts, hoods, vents and fans.
The problem with letting a commercial kitchen stay out too long without going through a kitchen exhaust system cleaning is the potential of a fire breaking out and because most commercial kitchens handle many customers each day, grease normally builds up really quickly. Restaurants should always put in place an inspection schedule where someone comes in cleans in the system before the grease piles up.
Our Kitchen Exhaust System Cleaning Process in San Antonio.
We've spent years cleaning and servicing all kinds of exhaust systems. Some filthier than others and with all this time spent, our experience has grown immensely. We now have all the necessary tools and all the best people in our team, to enable us to not only get the job done but get it done in a faster more convenient way. You can also check our About page for more information.
Here's what we can do for your kitchen exhaust cleaning system; first, this depends on the hood cleaning situation, but we may decide to start with scraping, get all the grime out, next we'll clean it with steaming water and environmental-friendly chemicals (safe for food of course).
Sometimes if the grease was too much it solidified then we may decide to use caustic chemicals to break it down so that if there is build up in the hard to reach spots the caustic chemical and hot water will flush it out, making it easier to clean.
Once done our team of kitchen exhaust system cleaning professionals will polish the surfaces to make them easier to clean in the next session, it also helps improve appearance. We do occasionally also use vinegar and water to get rid of residue.
Once an inspection is complete, the San Antonio Hood Cleaning team will discuss with you a cleaning schedule that makes sense for your business.
Hey there, Drop us a line
Cleaning frequency depends on the type of food you cook, fast food joints normally require more cleaning time than vegetarian restaurants.
Not trying to toot our own horn but we are the best in the business, best rates too! Call us now on this number - (726) 200-8878 to schedule an appointment. You can also contact us using this contact form here. No worries! We offer a free no-obligation quote.
Maybe you don't have a restaurant business, maybe you have a bar or any corporate kitchen. Whichever one you've got, we have got you covered.  We also own a San Francisco hood cleaning company.
We are licensed, bonded, certified and fully insured for kitchen exhaust system cleaning in San Antonio.
---
San Antonio Restaurant Hood Cleaning
proudly serves San Antonio, Texas.