Commercial Kitchen Equipment Cleaning Services
San Antonio, Texas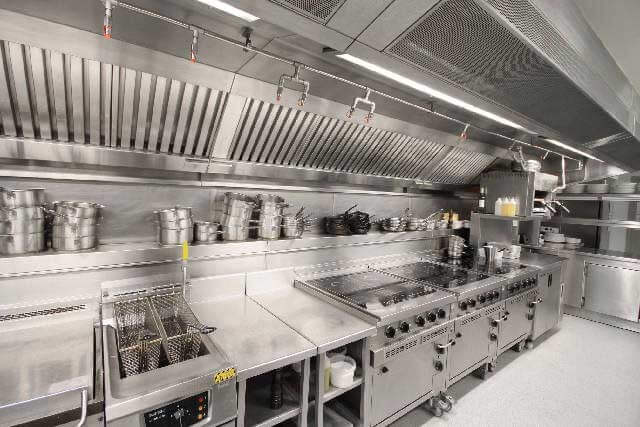 Just bought a restaurant? Or have one that's been closed for a long time? Then you'll need a thorough commercial kitchen equipment cleaning and restoration service to get you clean and make sure you're ready just in time for your 'big opening'.
Commercial kitchen equipment cleaning seems simple enough, but it's tough. It requires a significant amount of expertise, experience, the right tools and a qualified team to handle the task. We use environmentally friendly and non-caustic, pressure washers, scrapers ad degreasers for the best results. Our team is adequately trained and well equipped to provide the highest standard of professional hood cleaning available. We work well with Kitchen hoods and exhaust systems, Commercial ovens and kitchen equipment and Grease removal solutions. We'll also thoroughly clean your grills, deep fat fryers, extractor fans, walls, tiles and floors leaving your kitchen germ free, smelling fresh and most importantly maintaining health and safety standards.
Our dedicated commercial kitchen equipment cleaning team has proved itself to be worthy of the countless number of - the 100% customer satisfaction - reviews we have received over the years, we have saved many our clients a lot of money and time, by helping them avoid expensive fines and costly repairs and replacements associated with kitchen equipment.
At San Antonio Hood Cleaning, we understand the importance of minimizing downtime in a place of business which is why our certified staff will do its level best to ensure every piece of equipment us degreased and squeaky clean by the time business opens. Check our About page now for more information.
Ready to work with the best in commercial kitchen equipment cleaning in San Antonio? Get in touch with us.
Save yourself the trouble and disappointment that comes along with working with an inferior cleaning services company, sure they might seem cheap out of the gate but trust us they will always be extremely costly for you in the long term. For example, they might do shoddy work and put your restaurant in violation of EPA standards, we have been called in to fix what another company has completely wrecked. To avoid unnecessary fines, save on equipment repairs and maintain a great environment for both your customers and staff, get in touch with San Antonio Hood Cleaning now.
Our team is always willing and ready to collaborate with you on any projects you may have. To request a free consultation, please fill in this contact form or pick up the phone and call us with this number - (726) 200-8878
We are licensed, bonded, certified and fully insured for commercial kitchen equipment cleaning.
---
San Antonio Restaurant Hood Cleaning proudly serves San Antonio, Texas
.