Commercial Kitchen Cleaning Services
San Antonio Texas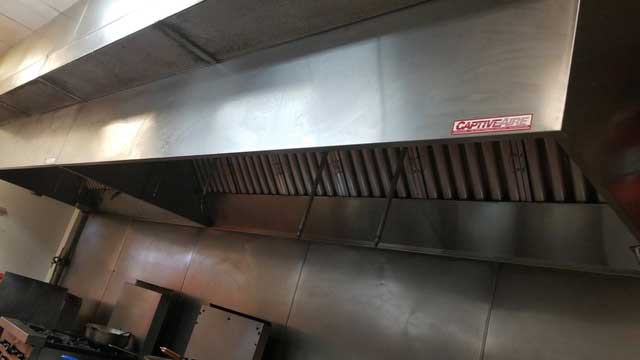 San Antonio Restaurant Hood Cleaners will scrub every part of your kitchen. Common places & all the entire flooring surfaces around your restaurant's kitchen, upon completion all the stainless-steel surfaces will be polished. Our team uses the perfect combination of both old-fashioned sanitation practices and new modern cleaning appliances to provide a professional commercial kitchen cleaning.
Restaurants receive quite the number of people walking into their building, we can't imagine yours is any different. If your floor isn't serviced and maintained properly at the close of business your floor will die. Okay, not literally but it will lose all its appeal.
With the right commercial kitchen cleaning partner, your floor will be clean and polished for many years to come. Our star team has spent years perfecting the art of floor servicing. Floors are unique, and our team is adequately trained to handle each one. Depending on the influx of people visiting your restaurant, we will tailor a service that's suited just for you. We're equipped with modern tools for floor cleaning, so you won't have to worry about scratches and stains being left behind.
Some of the other 'in the back of the' restaurant cleaning services we offer include: (and aren't limited to) - Cleaning of all food surfaces (prep tables, cutting boards), Deep kitchen cleaning, scrubbing of steam tables, scraping out grease traps, washing the refrigerator, cleaning the staff's washrooms, covering trash cans with plastic wrap, spot cleaning and much more. You can also visit our About page to know more about our company.
Call us now for a free quote today for commercial kitchen cleaning.
We can guarantee an NFPA 96 standard for your restaurant. We can also guarantee that your kitchen will pass all inspection regulations.
Whichever type of hospitality business your running, whether it's a posh restaurant, a chain of restaurants, or fast food joint, we can help you keep up with sanitation regulations that are crucial in the hospitality industry.
If you decide to move forward with our company, we can promise you won't be disappointed. We will plan an appointment to come to where you are for a quick inspection. We offer 24/7 services and will customize a schedule that fits your restaurant's needs to ensure we don't disrupt any of your normal day to day operations.
We offer the best rates in town for commercial kitchen cleaning in San Antonio. Call us through this number or contact us with this form here for a free quote.
We are licensed, bonded, certified and fully insured for commercial kitchen cleaning.
---
San Antonio Restaurant Hood Cleaning proudly serves San Antonio, Texas
.